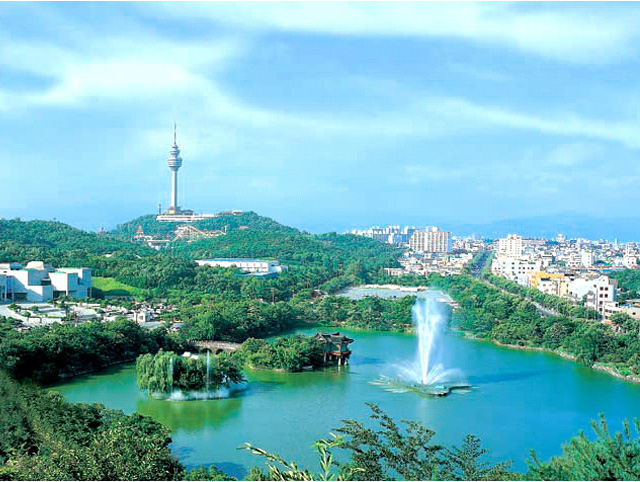 HAI 2015 will be held in Daegu, South Korea on October 21-24, 2015.
We have prepared a pdf of tours, access guides, maps, and a card in Korean that can be shown to taxi drivers to get you to the university.
Daegu is the third largest city in Korea surrounded by 6 UNESCO world heritage sites.
We will provide tour programs during the conference, which includes visits to the
selected UNESCO heritage sites. In addition, a variety of social events will be prepared
for you to enjoy the beauty of Korean culture and nature. For further information of
the tour program, please visit the tours page and sign up for the tour!
Venue
The conference venue will be Kyungpook National University (Global Plaza).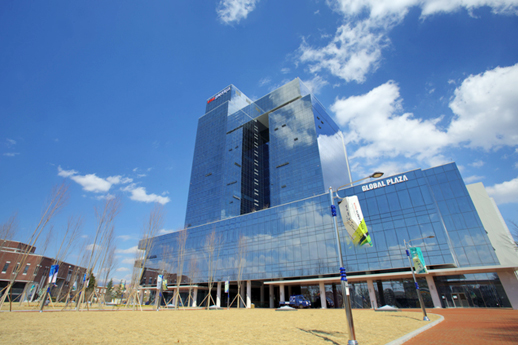 Global Plaza is a new landmark of Kyungpook national university. Kyungpook National University is one of the most prestigious Korean national universities along with Seoul National University. It is located in the Daegu Metropolitan City, which is the capital city of the Kyungpook Province, South Korea. In 2012, KNU opened the KNU Global Plaza for a professional engagement, such as knowledge / technology exchange between KNU and industry, and for domestic and international events / conferences. It has 17 floors, and its office rooms and facilities on 8th to 15th floors are currently occupied by more than 50 research institutes and centres.
Access
Access to Daegu
We have an attendee information package that may help you get to Daegu and the campus. In it are a few maps, airport access information, and a card that can be shown to taxi drivers that tells them to take you to the university.
Korea can be reached from just about every major city in the world, either through direct flights or by connecting flights at any major East Asian cites. Korea's excellent transportation network, which includes domestic airlines, highways and rail service, will make sure that all participants of HAI 2015 arrive on time. Located at the center of the southeast region of the Korean Peninsula, Daegu is about 300km southeast of Seoul. From Seoul Railway Station, visitors can easily take a KTX (Korea Train Express) to Daegu.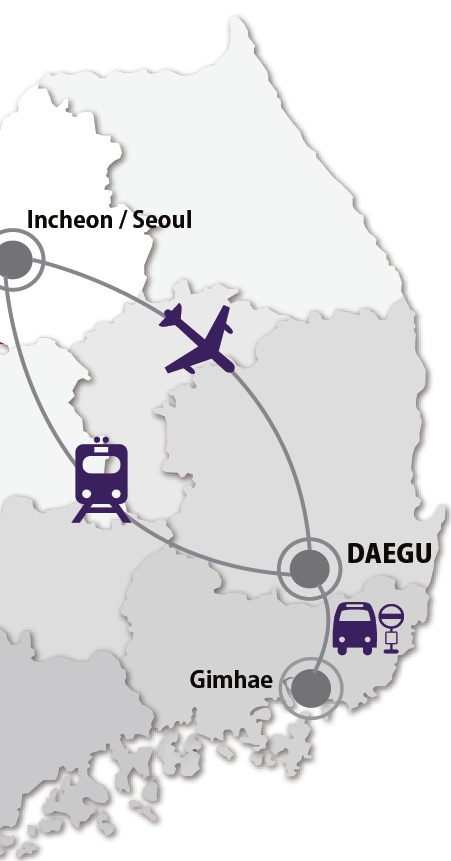 Access by Train
Incheon International Airport -> Seoul Station Dongdaegu Station
190 mins, every 15 to 30mins
Incheon International Airport -> Dongdaegu Station
170 mins, 6 times / day
Access by Limousine Bus
Gimhae International Airport -> Dongdaegu Station
60 mins, 10 times / day
Access by Flight
Incheon International Airport -> Daegu International Airport
50 mins, 2 flights / day

Access to Venue
This information will be added shortly. Please check back later.
Accommodation
Here are a few recommended hotels in Daegu:
Novotel Daegu City Center (5-star)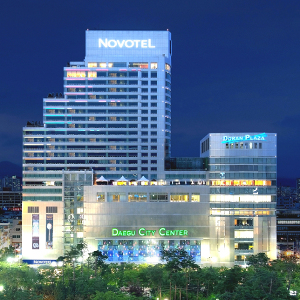 Ideally located in the centre of the business and entertainment district, directly connected to shopping malls and the subway, Novotel Ambassador Daegu is the first international hotel in the city. The 203 spacious rooms and suites offer guests modern facilities and city views.
10 mins from Kyungpook National university by car.
Inter-Burgo EXCO Hotel(5-star)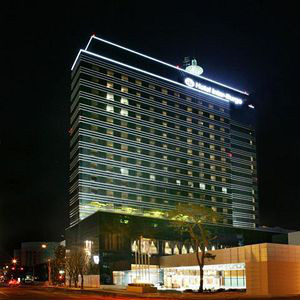 Located in front of EXCO, it is a remarkable hotel equipped with a variety of business, banquet, and other facilities. It provides all the facilities that you need such as comfortable rooms, a health club, hairdressers, coffee shop, various banquet halls, restaurants, and sky lounges.
10 mins from Kyungpook National university by car.
Touring Daegu
4 UNESCO designated world heritage sites are located near Daegu.
Please check our tour information package for information on the tours of some things you can do in Korea.